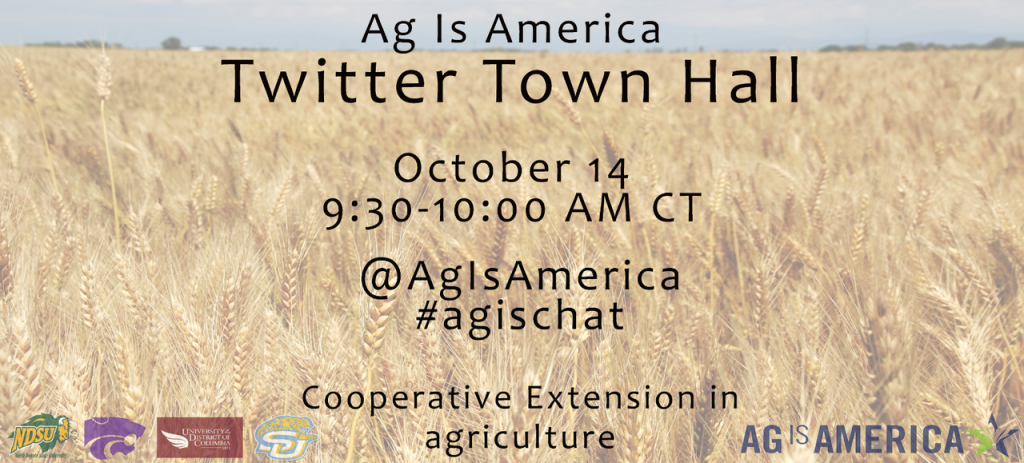 On Wednesday, October 14 from 9:30-10 AM CT, Ag Is America will be hosting our next Twitter Town Hall in conjunction with the University of the District of Columbia, Kansas State University, North Dakota State University, and Southern University's Ag Center.
Each university will be honored at the upcoming 2015 National Extension Directors and Administrators (NEDA) and Cooperative Extension Section Annual Business Meeting later this week in St. Louis for their innovation and leadership in their communities.
A Twitter Town Hall, like a public meeting or seminar, gives participants an opportunity to engage in a Q&A session over Twitter – a digital public forum. Research and Extension specialists from the four universities will be responding to your questions as they come in.
The town hall will occur from 9:30 – 10 AM CT. The easiest way to participate is to tweet a question to @AGisAmerica and include the hashtag #AGisChat in your tweet. We will begin answering questions starting promptly at 9:30 AM CT. Submit your questions here! Research and extension experts from each institution will be on our panel of experts to answer questions about youth development, drones, health, nutrition, urban agriculture, and more.
About Agriculture is America
Agriculture is America. In short, the agriculture industry — sustained in large part by the American land-grant university system through both Agricultural Experiment Stations and Cooperative Extension — is integral to jobs, national security, and health.