Why Ag Matters – May 2015
Your monthly snapshot of the extraordinary work from our land-grant universities, institutions, and Colleges of Agriculture compiled by Agriculture is America.
125th Anniversary of the Second Morrill Act
This year, we #Celebrate1890s and their establishment under the Second Morrill Act, which sought to correct discriminatory practices by Southern and border states that denied African Americans admission to the public land-grant universities created under the First Morrill Act of 1862. On April 23, several institutions and partnering supporters, including the Association of Public and Land-Grant Universities, held 1890 Day Wellness Walks to raise awareness of health and nutrition issues faced by predominately African American communities as well as collection donations for the inaugural Justin Morrill Scholarship Fund. This scholarship fund will support students majoring in food, agricultural and environmental sciences.
Here's what Dr. Sonny Ramaswamy, director of the National Institute of Food and Agriculture (NIFA) at the U.S. Department of Agriculture said about the anniversary, "For 125 years, the 1890s land-grant institutions have played a critical role in meeting this country's need for high-quality, innovative food and agricultural science and education and providing solutions to some of our most pressing societal challenges. NIFA is honored to partner with and support these universities as they work to advance research and extension and educate the next generation of scientists, engineers, farmers and foresters."
Here's what Juliette B. Bell, chair of the Council of 1890 Land-Grant Universities and president of the University of Maryland Eastern Shore, said about the anniversary, "As we celebrate this historic landmark in education and technical progress, we are also educating the nation about the legacy and achievements of the entire 1890 university community. We invite everyone with a stake in educating the next generation of global leaders to participate in this event and to learn more about the remarkable contributions the 1890 universities continue to make toward American progress and prosperity." 
To read more about the 125th Anniversary and the Wellness Walks, click here.
#LGUimpact Now and Then
Did you know that by nine billion people are expected to inhabit Earth by 2050? 2050 may be 35 years from now, but land-grant institutions are working together to meet 21st Century challenges. Learn more on the Land-Grant Impacts website and see how land-grant research, teaching, and extension benefits your state and/or region.
The National Impact Database Committee announced the launch of this website along with an internal database that allows designated university contacts to upload and update impact statements. Specifically, the teaching, research, and extension updates highlight six areas of local, national, and international impact:
Food Security
Nutrition & Health
Youth, Families, & Communities
Environmental Stewardship
Agricultural Systems
The National Impact Database is jointly sponsored by ECOP and ESCOP.
May is National Osteoporosis Awareness and Prevention Month
According to the National Institute of Health, "in the United States, more than 40 million people either already have osteoporosis or are at high risk due low bone mass."  To promote awareness of bone health and general nutrition, we will highlight calcium, bone health, and nutrition-related land-grant research, teaching, and extension efforts.
 Highlights in Research and Extension
Top Tweets
1. North Carolina A&T State University, @ncatsuaggies  – which was shared by Reverend Jesse Louis Jackson, Sr.'s official Twitter account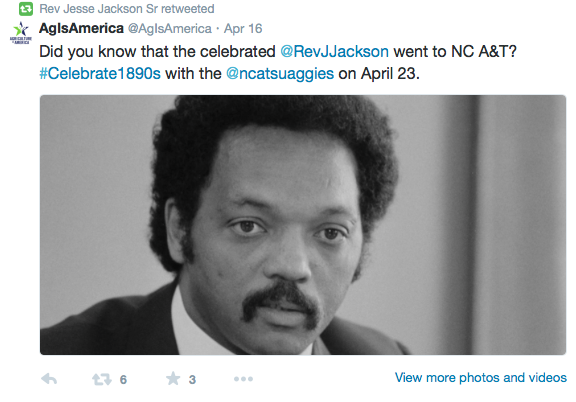 2. University of Kentucky, @UKAgNews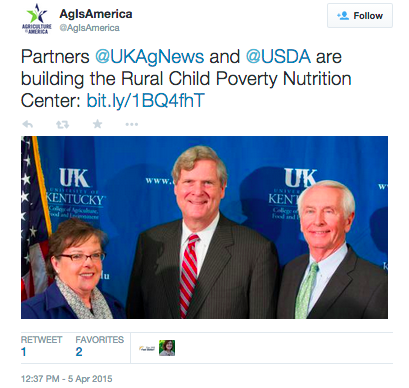 3. Montana State University, @MSU_Extension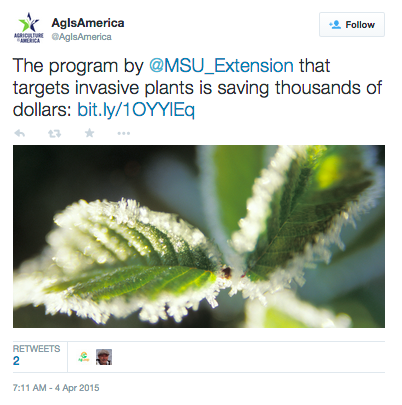 4. Kansas State University, @KStateResExt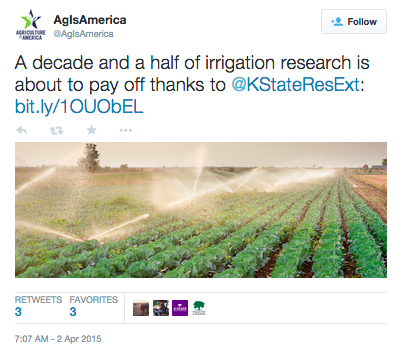 Fun Fact: Have you ever seen an interactive topographic map? Check one out here.
Share Your Story
This is a monthly email highlighting some of the content featured on Ag Is America. Our goal is to share the land-grant story with you.
What has your local land-grant university or institution done to impact jobs, the economy, national security, water security, health or nutrition research and education?
We'd love to hear from you. We're particularly interested in updates from the Colleges of Agriculture, research accomplishments, and extension efforts. Send your ideas and questions to @AgIsAmerica.
We also invite you to help communicate the value of land-grant institutions by:
Sharing this newsletter
Providing names and emails of any additional contacts whom you wish to receive this newsletter
Following AgIsAmerica on Twitter and encouraging others to do the same: twitter.com/AgIsAmerica
Retweeting content from @AgIsAmerica. Be sure to mention us in your own tweets and link to stories on agisamerica.org