Why Ag Matters: June 2015
Your monthly snapshot of the extraordinary work from our land-grant universities, institutions, and Colleges of Agriculture compiled by Agriculture is America.
May was National Osteoporosis Month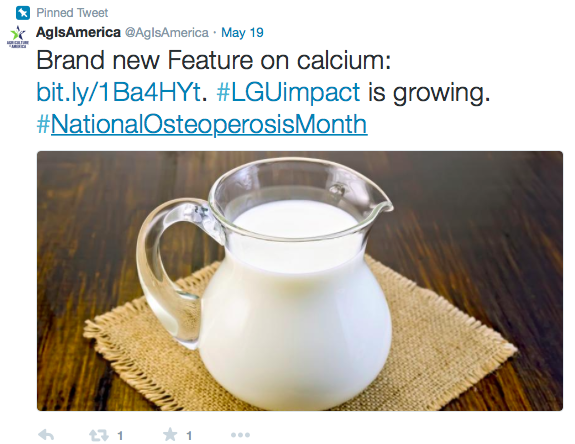 The suggested daily amount of calcium is 1300 milligrams, which amounts to roughly three servings from the dairy group. The dairy group includes milk, yogurt, and cheese. Most children consume only 60 to 80% of the suggested daily amount.
Scientists from 11 land-grant institutions and Brigham Young University are working together to help parents motivate children to boost calcium intake to strengthen bones and prevent bone fractures from occurring later in life. The scientists are members of multistate research project W-2003 titled Motivating Parents of Preadolescents (9-13 years old) to Increase Calcium Intake.
Here's what researchers at The Ohio State University, Brigham Young University, and the University of Hawaii at Manoa said: "Bone acquisition, or bone building, is at its highest rate during preadolescence. An adequate consumption of calcium during these years helps to ensure strong bones and reduce risk of osteoporosis later in life. However, current research indicates that most preadolescents are not consuming enough calcium."
To read more about W-2003, please click here.
Why USDA Secretary Vilsack Serves
In May, we celebrated Public Service Recognition Week. In The Federal Times, Secretary Vilsack, highlighted the U.S. Department of Agriculture (USDA) and its employees as well as described ways in which the USDA inspires him everyday. To read more about Secretary Vilsack's commentary, please click here.
June is National Fresh Fruit & Vegetables Month
To promote health and nutrition, we will highlight the benefits of eating fresh fruit and vegetables during the month of June. But, fresh fruit and vegetables need healthy soil to grow, so we'll also highlight the 2015 theme – International Year of Soils.
Highlights in Research and Extension
Montana State University: MSU Extension Integrated Management of Agricultural Weeds
Alabama A&M & Auburn Universities Extension: Growing Figs in Alabama
Oregon State University: Getting Down With Soil Scientists
Top Tweets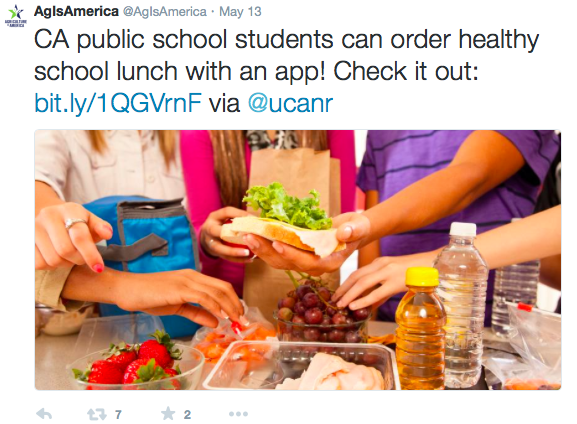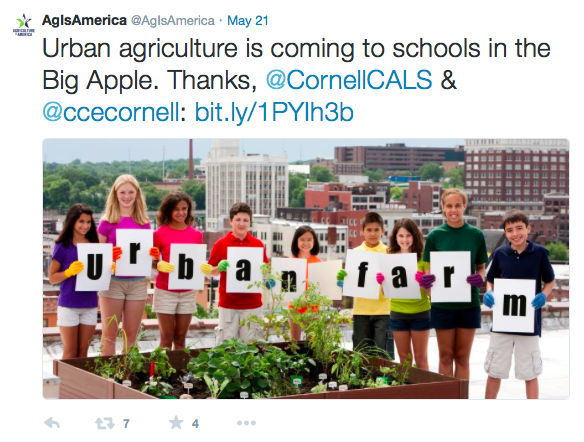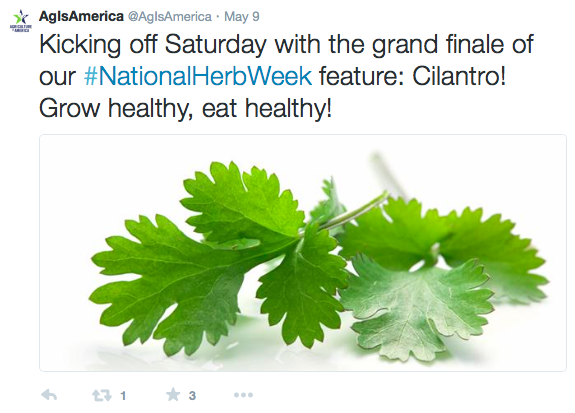 Fun Fact
Did you know that almost 60,000 agriculture jobs are available be each year? Read more here via Modern Farmer.
This is a monthly email highlighting some of the content featured on Ag Is America. Our goal is to share the land-grant story with you.
What has your local land-grant university or institution done to impact jobs, the economy, national security, water security, health or nutrition research and education?
We'd love to hear from you. We're particularly interested in updates from the Colleges of Agriculture, research accomplishments, and extension efforts. Send your ideas and questions to @AgIsAmerica with the #LGUimpact.
We also invite you to help communicate the value of land-grant institutions by:
Sharing this newsletter
Providing names and emails of any additional contacts whom you wish to receive this newsletter
Following AgIsAmerica on Twitter and encouraging others to do the same: twitter.com/AgIsAmerica
Retweeting content from @AgIsAmerica. Be sure to mention us in your own tweets and link to stories on agisamerica.org