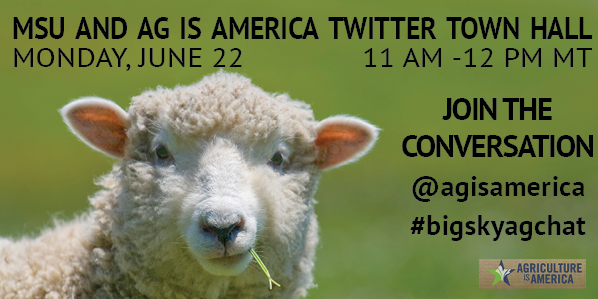 On Monday, June 22 from 11am-noon MT, Ag Is America will be hosting a Twitter Town Hall with Montana State University.
A Twitter Town Hall is similar to a Q&A session in a public forum, except that it takes place over Twitter. Everyone is invited to ask questions, and we will have MSU research scientists standing by to respond.
The easiest way to participate is to tweet a question to @AgIsAmerica, and include the hashtag #BigSkyAgChat in your message. We will see what you sent instantly, and will send an answer directly back to you within minutes.
We will start preparing answers to your questions in the week before the event. This means you can either submit your question beforehand, giving us extra time to craft an answer, or during the live event itself. You can start now!
All agriculture-related questions are relevant, particularly those concerning soil science, water security, agricultural production, and the importance of youth in agriculture.
This event is in conjunction with Montana State University's College of Agriculture, Montana Agricultural Experiment Station, and MSU Extension.

About Agriculture is America
Agriculture is America. In short, the agriculture industry — sustained in large part by the American land-grant university system through both Agricultural Experiment Stations and Cooperative Extension — is integral to jobs, national security, and health.