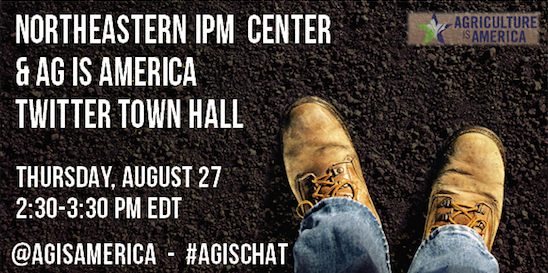 On Thursday, August 27 from 2:30-3:30 EDT, Ag Is America will be hosting a Twitter Town Hall with the Northeast IPM Center.
A Twitter Town Hall, like a public meeting or seminar, gives participants an opportunity to engage in a Q&A session over Twitter – a digital public forum. Research and Extension specialists from the Northeast IPM Center as well as multiple land-grant universities and institutions will be responding to your questions as they come in.
The easiest way to participate is to tweet a question to @AgIsAmerica and include the hashtag #AgIsChat in your tweet. We are collecting questions now up until the 27th. We also encourage you to submit additional questions during the hour long Town Hall itself. Start submitting your questions here!
All agriculture-related questions are relevant. Our experts can address questions about a variety of topics, including but not limited to:
technology and its agricultural applications
invasive species (both pests and plants)
soil science
the Master Gardener program
community events and outreach
federal funding and grants
To learn more about the Northeast IPM Center, click here.
About Agriculture is America
Agriculture is America. In short, the agriculture industry — sustained in large part by the American land-grant university system through both Agricultural Experiment Stations and Cooperative Extension — is integral to jobs, national security, and health.