WHY AG MATTERS: April 2015
Your monthly snapshot of the extraordinary work from our land-grant universities, institutions, and Colleges of Agriculture compiled by Agriculture is America.
March "Ag"ness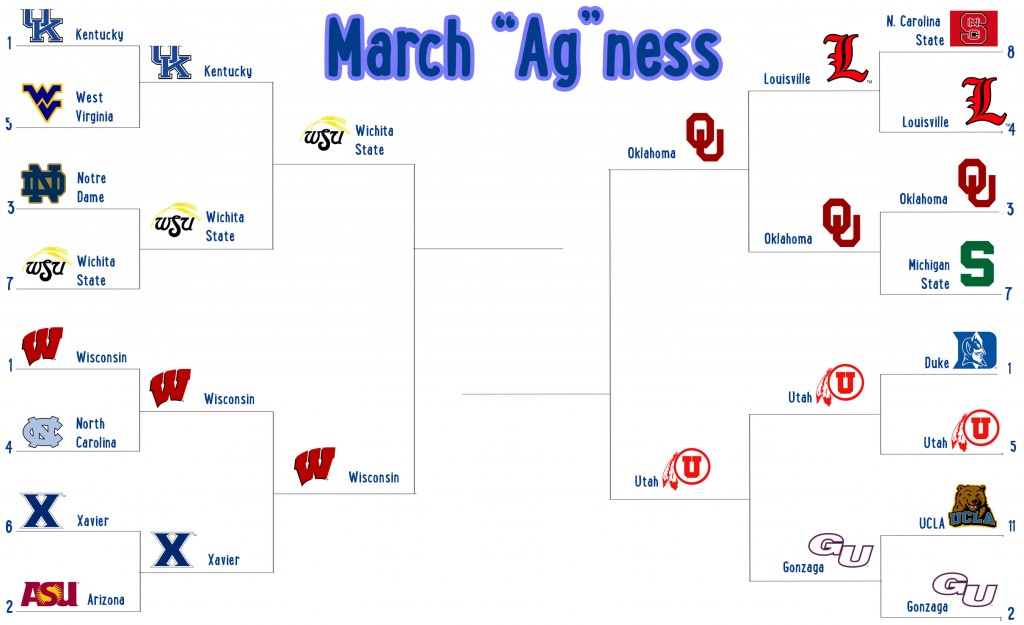 And, we're down to the final four! It's a face off between Wichita State, Wisconsin, Oklahoma, and Utah. Who do you think will come out on top? Tell us your predications by tweeting @AgIsAmerica.
Every game, we will roll out our picks for each match-up based on the farming prowess of the universities' home states. To view our bracket and learn more about March "Ag"ness, visit our website.
Eleven Land-Grant Institutions Help Protect Pecan Yield
More than 75% of the world's pecan crop is produced in the United States, and researchers and extension specialists from 11 land-grant universities are working together to ensure that pests don't affect crop yield. The project, titled S-1049 Integrated Management of Pecan Arthropod Pests in the Southern U.S., is a multistate research project that helps pecan growers learn more about affordable, environmentally friendly, and sustainable pecan pest management options. The project was the 2014 Southern Region nominee for the Experiment Station Section Excellence in Multistate Research Award and was recently selected as the region's 2015 nominee.
Here's what Dr. Donn Johnson, former chair of S-1049 and Entomology Professor at the University of Arkansas, said: "Since 1972, S-1049 members have conducted experiments on over 300 acres of test fields across the country and collaborated with horticulturists and plant pathologists to develop best production practices to improve pecan nut quality and yields. This field data is critical to developing pest monitoring protocols and tools, like traps, treatments, and biological control options."
You can read more about S-1049 on AgIsAmerica and on the project's website, which includes a real-time Pecan Nut Casebearer Risk Map.
Here's what Dr. Marvin Harris, member of S-1049 and Entomology Emeritus Professor at Texas A&M University, said: "This map includes real-time trap data from approximately 100 pecan groves in the Southern Region. It's a useful tool that helps growers identify when to scout for egg hatch and decide if and when to apply treatments or biological control options."
New Resource Showcases #LGUImpact
Did you know that there is land-grant university in every state and territory of the United States, including Washington, DC? Learn more about the history of land-grant universities and their three-fold mission of teaching, research, and extension on the Land-Grant Impacts website.
Earlier this month, the National Impact Database Committee announced the launch of this website along with an internal database that allows designated university contacts to upload and update impact statements. Specifically, the teaching, research, and extension updates highlight six areas of impact:
Food Security
Nutrition & Health
Youth, Families, & Communities
Environmental Stewardship
Agricultural Systems
The National Impact is jointly sponsored by ECOP and ESCOP.
Top Tweets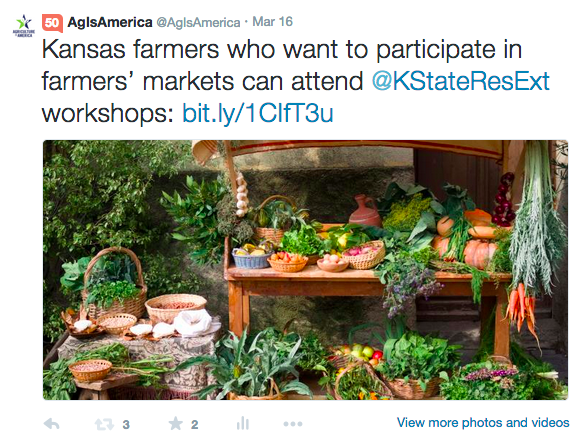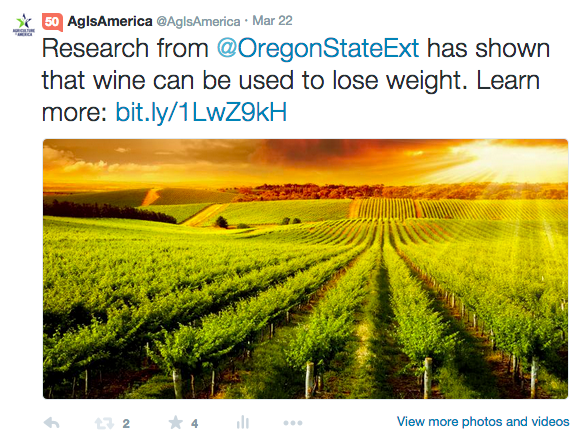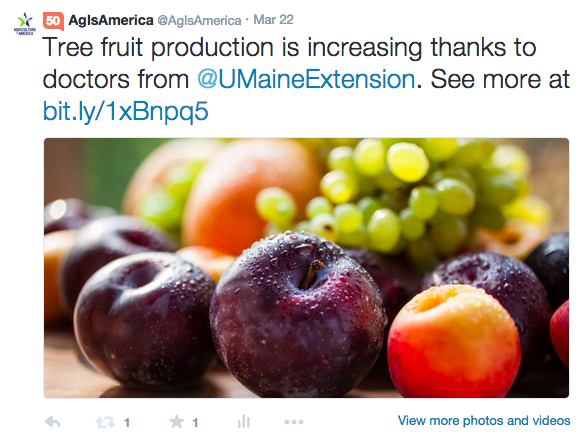 Highlights in Research and Extension
Fun Fact
Did you know that your grandparents spent more of their money on food than you do? Read more on NPR's The Salt.
What has your local land-grant university or institution done to impact jobs, the economy, national security, water security, health or nutrition research and education?
We'd love to hear your story. We're particularly interested in updates from the Colleges of Agriculture, research accomplishments, and extension efforts. Send your stories by tweeting at @AgIsAmerica.
We invite you to help our effort to communicate the value of land-grant universities by:
Sharing this newsletter to make sure your colleagues know Ag Is America
Providing us with the names and emails of any additional contacts who you wish to receive this newsletter
Following us on Twitter and encouraging others to do the same: twitter.com/AgIsAmerica
Retweeting content from @AgIsAmerica, mention us in your own tweets, and link to stories on agisamerica.org.