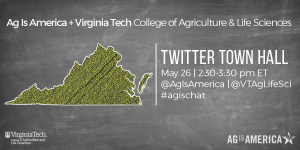 May 19, 2016
Extension specialists and researchers from Virginia Tech's College of Agriculture and Life Sciences and Virginia Cooperative Extension will partner with Agriculture is America (AgIsAmerica), a national communications initiative aimed at highlighting the nation's land-grant institutions, to host a Twitter Town Hall.
Scientists, researchers, and Extension educators will answer questions regarding Virginia Tech's role in the advancement of agricultural science and food safety innovation. Specifically, experts will discuss  how everyone from producers to consumers can educate themselves on food safety and share tips about best practices.  Virginia Tech, a land-grant institution, is dedicated to the three-fold mission of researching, teaching, and Extension and is committed to sharing the knowledge learned in its laboratories with the world.
A Twitter Town Hall, like a public meeting or seminar, gives the opportunity for a live question and answer period. To follow the conversation or submit a question, include the hashtag, "#agischat," in your tweet. All agriculture-related organizations, industry leaders, friends, and supporters are invited to join the discussion.
WHAT: Twitter Town Hall
WHO:
Renee Boyer, Associate Professor in the College of Agriculture and Life Sciences and Virginia Cooperative Extension specialist
Monica Ponder, Associate Professor
Laura Strawn, Assistant Professor and Extension specialist based at the Eastern Shore Agricultural and Research Extension Center
WHEN: Thursday May 26
2:30-3:30 p.m. ET
WHERE: Participating Twitter handles include @agisamerica  and  @vtaglifesci
About the Virginia Tech College of Agriculture and Life Sciences
Nationally ranked among the top research institutions of its kind, Virginia Tech's College of Agriculture and Life Sciences focuses on the science and business of living systems through learning, discovery, and engagement. The college's comprehensive curriculum gives more than 3,100 students in a dozen academic departments a balanced education that ranges from food and fiber production to economics to human health. Students learn from the world's leading agricultural scientists, who bring the latest science and technology into the classroom.
About AgIsAmerica Agriculture is America
In short, the agriculture industry – sustained in large part by the American land-grant university system through Colleges of Agriculture, Agricultural Experiment Stations, and Cooperative Extension – is integral to jobs, national security, and health. To learn more, visit http://agisamerica.org